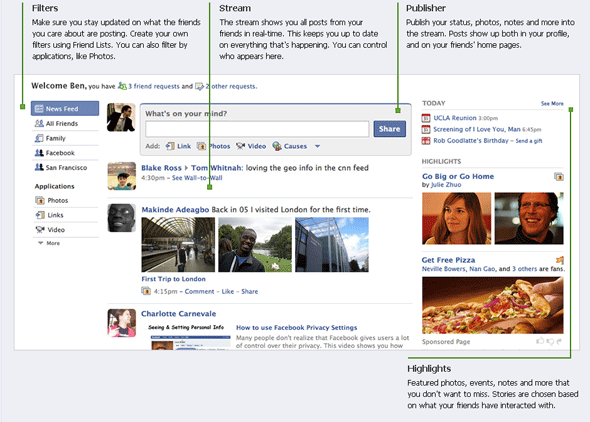 Facebook has announced very significant changes today in its home page design, profile pages and the news activity streams. The most important change is the fact that Facebook has embraced the Twitter model by allowing people to become fans on public pages without the 5,000-friend limit.
Currently, many companies and celebrities are using Twitter to easily connect as there are really no limitations, some accounts have in excess of 170,000 friends. People have also moved to Twitter to broadcast information instantly, and Facebook doesn't want that trend to continue. Facebook will now make its news feed live, instead of the traditional 15-minute or so delay so you can get your information instantly.
Facebook will allow you to set new privacy and sort filters for the news feed so you can easily sort through information from friends and groups. There is also a new widget that highlights items from friends you interact most with. The new changes will go live for everyone next Wednesday.
In related Facebook news, BGR has managed to get screen shots of the new Facebook BlackBerry App. Enhancements to the app for the BB include the ability to consolidate your Facebook address book with your phones and sync with Outlook. It also lets you set caller ID pictures from your Facebook contacts. You now also have the option of integrating Facebook notifications with your Messages. The application also now connects with your Calendar. The application should be available soon.